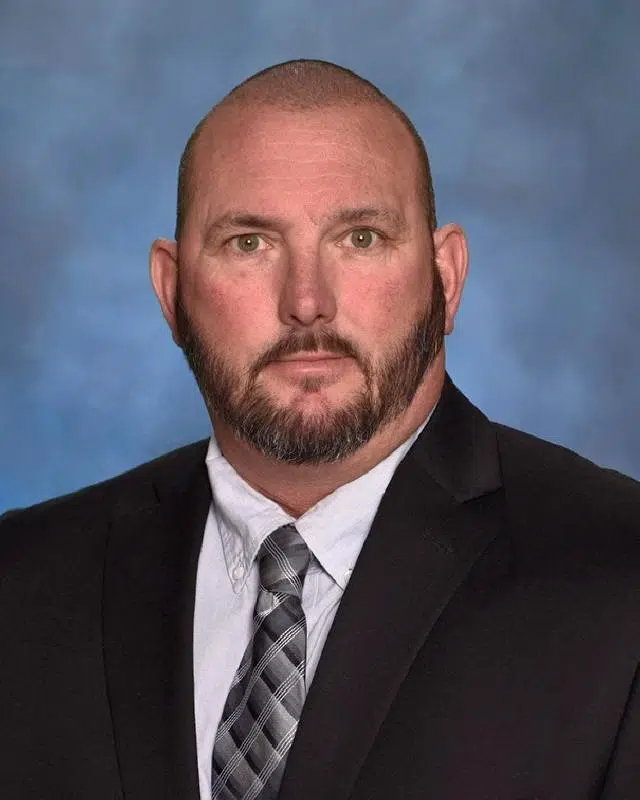 Teutopolis, IL-(Effingham Radio)- The Teutopolis Board of Education has announced Tanner C. Lawson as the next principal of Teutopolis High School.
Mr. Lawson released the following statement following the announcement:
"I am extremely honored to be the new Teutopolis High School Principal. It is truly a dream come true. When I first met my wife, we both were teachers at Pana Sacred Heart, she spoke of this school, which she referred to as T-Town, rich in academic and extra-curricular tradition, heavily supported by a hard-working community deeply rooted in faith. For almost 22 years now, I have intermittently been part of this unique community spending holidays with family, attending local churches, sporting events, weddings, etc."

"I look forward to serving the talented staff and students at Teutopolis, becoming part of a supportive community with high expectations and that value quality education, and collaborating with the Board of Education, superintendent, and district administrators to provide enhanced opportunities for whole student growth. Starting the relationship building process with the Wooden Shoe community will be one of my first goals."
"I gained valuable leadership experience as an administrator within my current district, Buchanan Co. R-IV. The Board of Education, superintendent, staff, students, and community were very supportive and together we were making positive changes not only for the school, but the community as a whole. Normally, making the transition to a new community, school, parish, and social network usually leads to several unknowns. However, in this case, we are fully aware of the "Wooden Shoe" tradition and are extremely excited to become part of it."
Superintendent Matthew Sturgeon: "On behalf of the Board of Education, staff and students of Teutopolis CUSD #50, we welcome Mr. Tanner Lawson as our newest Wooden Shoe. Mr. Lawson's excitement to join us is not only an asset to our high school but to our community."
Background on Mr. Lawson:
Education: 
Specialist in Education,

Educational Leadership, Arkansas State University; June 2020

Master of Education,

Education Administration, Grand Canyon University; June 2010

Bachelor of Arts,

Elementary Education, Illinois College; 1997 
Professional Education License: 
General Administrative

(K-12)  

Elementary Education

(K-9) 

Social Science

(Upper Elementary/Jr. High)  
Professional Experience: 
Principal- 7-12 (July 2019-Present) DeKalb Jr./Sr. High School, DeKalb, MO
Directly responsible for daily building operations ensuring a safe positive educational atmosphere for 125 students and 30 staff members 

Responsibilities included building and grounds management, administered district policies, organized curriculum, instruction, and professional development, 504 coordinator, public relations, monitored attendance and eligibility, building finance, evaluated staff, coordinated the intervention room for academic

accountability and tutoring, reconstructed the master schedule 
Social Science Teacher- (2013-2019) West Platte High School, Weston, MO
Created and presented instructional units in U.S. Government and American History 

Building Leadership Team, Curriculum Team, NHS Selection Committee, Co Chairman for the Nate Danneman Scholarship. 
Social Science Teacher- (2011-2013) Warrensburg-Latham MS, Warrensburg, IL 
Created and presented instructional units in World History 
Social Science Teacher- (2006-2011) Sherwood Cass R-8 HS, Creighton, MO  
Created and presented instructional units in U.S. Government and American  History 
Middle School Teacher- (1999-2003) Routt/Our Saviour, Jacksonville, IL
Created and presented instructional units in Religion, Algebra, and American History 

Middle School Athletic Director 
8th Grade Teacher- (1998-1999) Pana Sacred Heart, Pana, IL