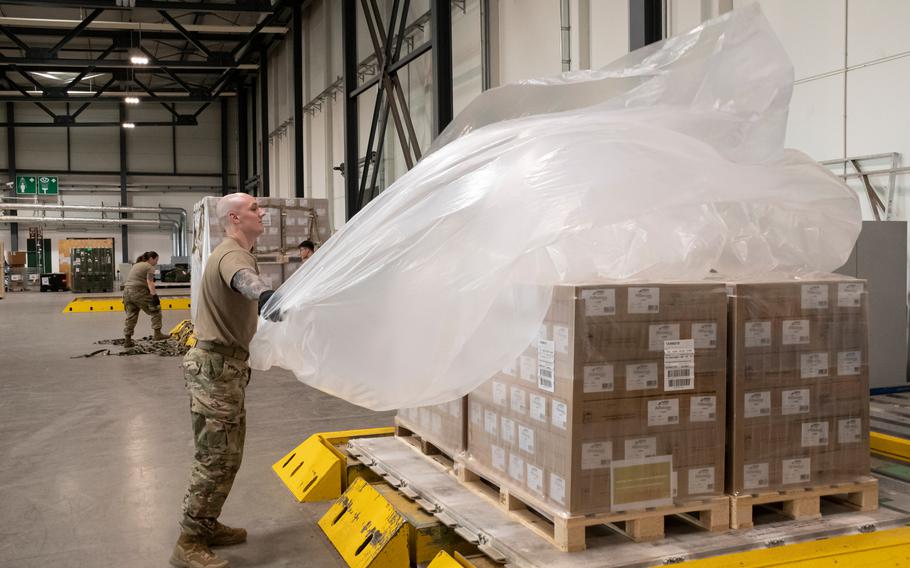 RAMSTEIN AIR BASE, Germany — The first shipment of baby formula from Europe to help address a national shortage in the United States left Germany on an Air Force cargo plane Sunday.
More than 130 pallets filled with formula departed for Indianapolis on a C-17 aircraft a little after 5 a.m. Germany time as part of Operation Fly Formula. Each pallet of Nestle Health Science Alfamino Infant and Alfamino Junior formula held over 430 of the 14.1-ounce containers of formula, labels on the packaging showed.
Another 114 pallets of Gerber Good Start Extensive HA formula are expected to arrive soon, the White House said in a statement Thursday, adding that the equivalent of up to 1.5 million 8-ounce bottles of the three formulas will be delivered.
The effort comes as stores in the U.S. have rationed supplies and some brands are out of stock. Baby formula availability had been affected by pandemic-related supply chain issues but was exacerbated when the largest plant producing formula in the U.S. was shuttered in February due to contamination concerns.
Airmen began loading the C-17 at Ramstein Air Base around 3 a.m. after an earlier departure time was delayed because of bad weather in the U.S.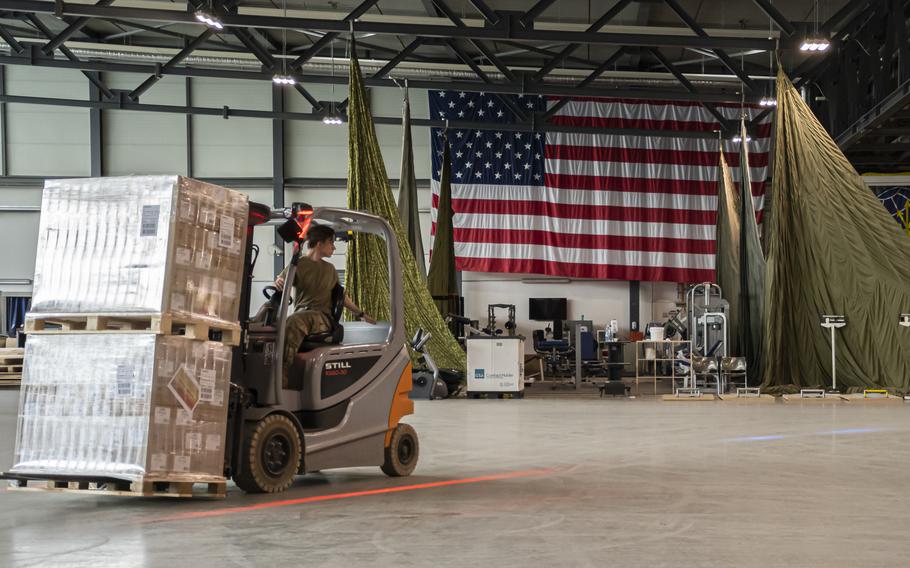 "There may be another military flight midweek," Lt. Col. William Powell, 86th Airlift Wing spokesman, said Sunday, adding that most subsequent flights likely would be commercial.
Trucks full of formula began arriving at the base Saturday morning, with 721st Aerial Port Squadron airmen spending much of the day packing it into large pallets.
The squadron was informed of the operation less than a day before, but squadron commander Lt. Col. Benjamin Taber said the tight turnaround didn't pose a challenge.
"This is what we do, whether it's baby formula, whether it's vaccines — which we were a big part of — or helping 35,000 Afghan travelers move through this area," Taber said. "When somebody needs our help, they can depend on us."
Several airmen assisting the operation Saturday and Sunday were volunteers who worked on their weekend off. Staff Sgt. Adam McAteer, a passenger services supervisor, was among those who helped prepare the cargo.
"It's a chance to help people back in the States while we're over here in Europe, so why not?" McAteer said.
In addition to flying in stock from overseas, President Joe Biden invoked the Defense Production Act on Thursday to increase domestic production and said one of his top priorities was to ensure safe formula gets to Americans who need it.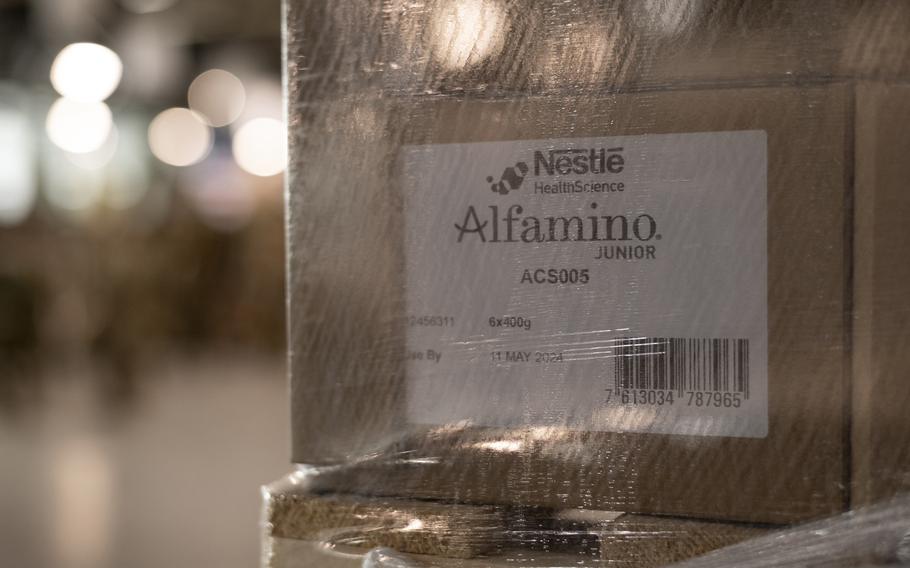 The nationwide shortage of baby formula, which has seen hypoallergenic varieties become particularly scarce, worsened when Abbott Nutrition shuttered its largest plant.
The company shut down the Sturgis, Mich., site after Food and Drug Administration inspectors began investigating bacterial infections in infants who consumed formula from the plant. Abbott on May 16 said it had struck an agreement with federal officials to reopen the plant in two weeks, but that it will take about two months before it's ready to distribute more product.