TalkTV says presenter Kate McCann fine now after fainting earlier, but debate won't resume
TalkTV has confirmed that Kate McCann fainted earlier. She is now fine, but the debate won't continue, it says.
Key events
Truss, the foreign secretary and favourite in the Tory leadership contest, said in the debate that the tax rises implemented by Sunak as chancellor were "morally wrong". She said:
What has happened is that the tax has been raised on families through national insurance so that they are having to pay more money to the Treasury. I do think it is morally wrong at this moment when families are struggling to pay for food that we have put up taxes on ordinary people when we said we wouldn't in our manifesto and when we didn't need to do so.
In response, Sunak said it was morally wrong to raise borrowing, which would have to be paid off by future generations. He said:
What's morally wrong is asking our children and grandchildren to pick up the tab for the bills that we are not prepared to meet.
Truss said that she would use general taxation to fill the gap in NHS funding left by her plan to reverse Sunak's national insurance increase, which funded the health and social care levy. She said:
I am committed to the extra money that was announced for the NHS. It is needed to deal with the backlog and I would fund that money out of general taxation.
Truss suggested earlier in the day that Sunak's economic policies would be a "disaster" for Britain. (See 3.59pm.)
A YouGov poll of Tory members suggests they thought Truss comfortably won last night's BBC debate. In the poll she was seen as outperforming Sunak on every measure, except who looked most prime ministerial, where Sunak was just one point ahead. (See 1.13pm.)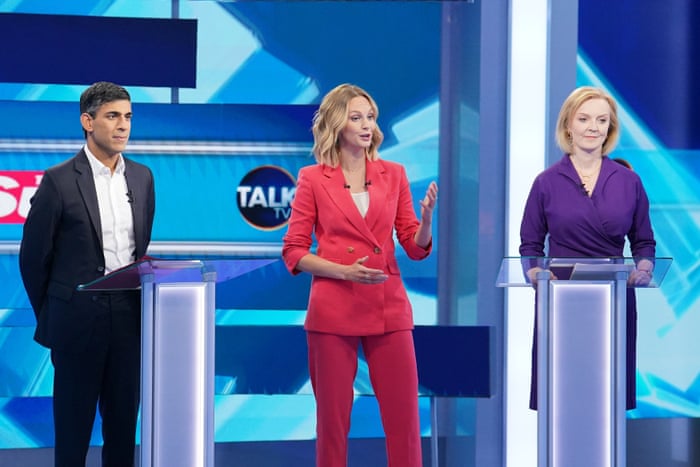 Politicians are sending their best wishes to Kate McCann.
From Amanda Milling, the Foreign Office minister
From Lord Falconer, the Labour former lord chancellor
From Sir Robert Buckland, the Welsh secretary
TalkTV says presenter Kate McCann fine now after fainting earlier, but debate won't resume
TalkTV has confirmed that Kate McCann fainted earlier. She is now fine, but the debate won't continue, it says.
The Talk TV/Sun debate is unlikely to resume, according to ITV's Carl Dinnen, reporting from the spin room. It was due to finish at 7pm anyway.
Rishi Sunak and Liz Truss have carried on taking question off air from the Sun readers in the studio, the Spectator's Katy Balls reports.
Julia Hartley-Brewer, the TalkTV presenter, says she has been told that Kate McCann, the TalkTV political editor who was hosting the programme, is okay. There have been reports that she fainted on set, although News UK has just said there was a medical issue.
Debate suspended after medical issue, says News UK
News UK says there has been a medical issue, and the debate will resume soon. This is from the Sun's Noa Hoffman.
Here is the moment when the debate was interrupted by the sound of a crash in the studio.
TalkTV/Sun debate halted after Truss interrupted by sound of crash in studio
The next question is about winter fuel bills.
And whether Sunak has the guts to stand up to Vladimir Putin if he turns off the gas taps this winter.
Yes, says Sunak. He says:
Yes, Andrew, is the quick answer and the reason you can believe me is because as chancellor I did a couple of things that demonstrates that strength, a year and a half ago I made sure that our armed forces got the largest uplift in funding that they've had since the end of the Cold War to make sure that we're protected against threats, like Putin.

As chancellor I also worked with all my finance ministers around the world to put in place a sanctions package, the likes of which we had never seen to try and tighten the grip on Putin's war machine, stop funding going to him and it does require toughness to stand up to him and it is going to require all of us to go through some difficult times.
McCann asks Truss how she will keep people supporting her when the cost of standing up to Putin is immense.
Truss says the cost of not standing up to him would be worse. He would go on.
Something has crashed on set. It sounds as though something has collapsed. The broadcast has stopped.
Truss looked shocked.
Truss and Sunak both says they support fracking, if local communities are in favour.
And they both say they will keep the fuel duty cuts already in place.
Truss says Sunak's policies are making the UK less competitive.
If you raise corporation tax too high, you get less money into the exchequer, she says.
She says we are projected to have the lowest growth in the G7. That is about jobs, she says.
Sunak says Sun readers are sensible enough to know that you do not get something for nothing.
So the question is – how do you pay for things? He thinks it is reasonable to ask big companies to pay more, he says.
He says he has spent his life in business. Of course he cares about competitiveness. The key thing is to get firms to invest. So he will cut taxes for businesses that invest in the economy.
Truss says Sunak's tax rises were 'morally wrong'
The next question from a woman who asks if her family should go vegetarian. She talks about the cost of meat.
Truss says she would cut red tape for farmers and focus on food production. She also wants resilience in the food supply.
She says she is the proud representative of a rural constituency. They produce good meat, she says.
Q: But often it is not affordable?
That is why she wants to help farmers produce food more cheaply. She would do that by cutting regulation for farmers.
Sunak says lots of families are facing rising bill. She hopes the questioner will be getting some of the support already on offer. He wants to get inflation out of the system, so the problems do not get worse, he says.
He says supermarkets should be held to account. He represents a rural area with many farmers. The supermarkets should not be exploiting the farmers, he says.
He wants supply chains to be fair. Shops should not be passing on price increases that are not right.
Truss says she wants to tackle inflation too. The Bank of England thinks it will fall.
On food bills, she says she wants to ensure people keep more of their own money.
It is "morally wrong" to put up taxes for ordinary people when it is not necessary, and when the Tory manifesto said the party would not do that.
Sunak says what is "morally wrong" is asking our children and grandchildren to pick up the bills we are not prepared to meet now.
He says it is fair to ask companies to pay a bit more through corporation tax. They received a lot of help during the pandemic. Truss wants to cut taxes for big business, he says.
Truss says that is a misrepresentation. (She wants to scrap a planned rise.)
Asked about their experience of the NHS, Sunak says his grandfather has just come out of hospital, and his daughter has needed A&E treatment. Truss says she has called 111 recently, and had a good experience, and her daughter has received treatment recently.
Truss says she will use general taxation to fill gap in NHS funding left when she scraps national insurance rise
McCann puts it to Sunak that money on its own has not worked.
Sunak says technology offers big potential too, like blood screening technology. He says he would like to see more specialised hubs where surgeons can work very effectively. Using innovations will address the backlogs.
He says he has published a plan saying from day one tackling the NHS backlog will be his number one priority.
McCann asks Truss where the extra money for the NHs will come from if she scraps the health and social care levy.
Truss says she is committed to the extra money for the NHs already promised. She would fund it from general taxation, she says.
She is committed to the 40 new hospitals the government has agreed to build.
(Except, of course, they aren't new hospitals.)
She says she wants to give more doctors on the frontline freedom to deliver.
Sunak stresses funding, Truss decentralisation, as candidates quizzed on NHS
John Hughes from Birmingham asks a question. He was diagnosed with cancer. He has had to rely on a charity for help, he says. He has had no help from cancer nurses. Why is the NHS broken?
Sunak says he grew up in an NHS family. He knows what a difference healthcare can make.
The NHS is under strain because it is recovering from Covid. It is under pressure. People are wating for care. He made sure the NHS got the funding it needed, through the national insurance rise. That was not easy and he got criticised for it. But it was the right thing to do, he says.
That is why people can be reassured the NHS is safe in his hands, he says.
Truss says she is incredibly sorry to hear about John's experience. She says her mum worked as a nurse in cancer research.
She says there is too much micro-managing in the NHS. People should not be directing everything from Whitehall. She wants to give more power locally.