On the warm side of a winter storm tracking from Texas to the Northeast this week, parts of the storm-fatigued South are in the bull's-eye for yet another severe weather threat Tuesday and Wednesday.
A Tornado Watch was initially issued until 6 p.m. CST for the mid- and upper Texas coast, including Houston, and southwestern Louisiana. 
The Tornado Watch was later extended to 1 a.m. CST for all of southern Louisiana.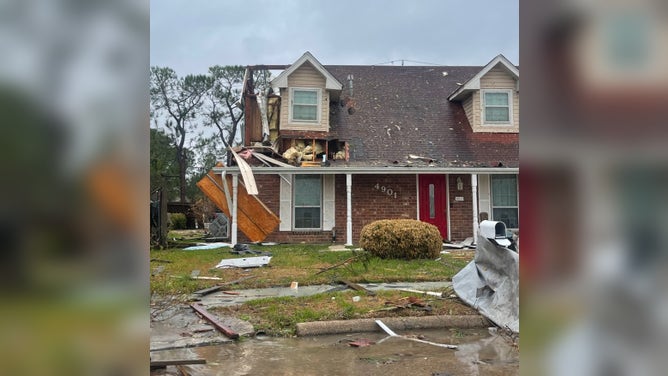 The Tornado Watches escalated to Tornado Warnings early Tuesday afternoon around the Houston area, covering over a million residents. 
LOOK AT THE DAMAGE LEFT BEHIND BY SEVERE STORMS THAT RIPPED THROUGH HOUSTON AREA
School districts in the warning, including Katy and Spring, said their students were sheltering in place for safety. The warning was later canceled with no reported damage.
Here's a look at the Tornado Watch issued on Tuesday, Jan. 24, 2023.
(FOX Weather)
---
A James E. Taylor High School student tells FOX Weather that his high school, located in Katy, Texas, was forced to take cover.
"There was an announcement about how there was a tornado drill, and we should be evacuated somewhere safe," Austin M. said. "All of the students sat in the hallways and everyone on the second floor moved to the first."
Other parts of the Houston area did experience significant storm damage on Tuesday.
A tornado was confirmed south and east of Houston on Tuesday afternoon, with a tornado emergency being issued in Chambers, Harris and Liberty counties.
It was the first tornado emergency issued in Houston's history.
'EXTENSIVE DAMAGE' REPORTED AFTER FIRST TORNADO EMERGENCY ISSUED FOR HOUSTON AREA
The tornado emergency later expired, but according to FOX Weather meteorologist Ian Oliver, it was still a Particularly Dangerous Situation for many outside of the Houston area.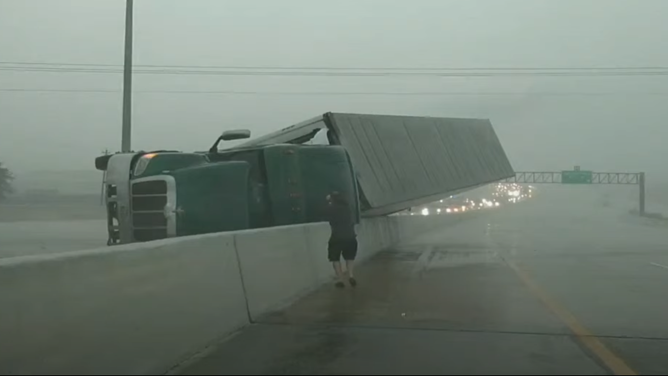 Throughout Houston, the powerful storm left its mark. 
The Pasadena Police Department in southeast Houston noted power lines being down and commercial trucks toppled on nearby highways. They also received reports of a tornado touching down. 
They added that the Pasadena Animal Shelter, home to about 70 animals, experienced storm damage. A couple of dogs were injured, and some of the animals are being moved to another facility.
"In my 25 years here, this is probably the worst damage I've seen," said Pasadena Police Chief Josh Bruegger.  
HOW TO STAY SAFE IN YOUR MOBILE HOME DURING A TORNADO
As of Tuesday afternoon, over 100,000 power outages in Texas were reported.
Tornado threat Tuesday, Jan. 24, 2023.
(FOX Weather)
---
In the town of Deer Park, which was under a tornado emergency on Tuesday afternoon, extensive damage was reported. 
Several commercial buildings were completed destroyed along Center Street. Some trees snapped in half, while others fell on homes and cars. Near Highway 225 and Underwood Road, two locomotives were derailed.
Texans experiencing minor to moderate injuries were being treated on the scene.
As the evening progressed, another tornado was confirmed as the storm system made its way toward the border of Texas and Louisiana. 
Orange County in Texas, along with Allen, Calcasieu and Beauregard Parishes in Louisiana, came under a Tornado Warning early Tuesday evening.
As of Tuesday evening, nearly 7 million people were at risk of significant tornadoes.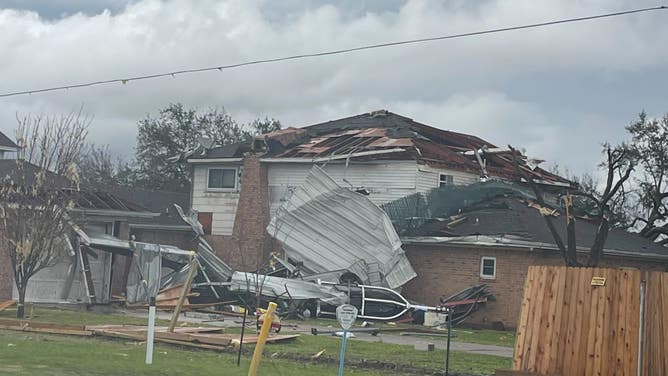 A large upper-level area of low pressure punching into the South on Tuesday has spawned the development of a surface low-pressure system near the Gulf Coast. 
That surface low is encountering warm, humid air surging northward off the Gulf of Mexico, priming the atmosphere for the development of severe thunderstorms, including tornadoes.
Severe thunderstorms are expected along the mid- and upper Texas coast Tuesday afternoon before spreading eastward Tuesday night into parts of southern Louisiana, coastal Mississippi, southern Alabama and the western Florida Panhandle.
According to the FOX Forecast Center, these storms will be capable of damaging wind gusts and several tornadoes, a few of which could be EF-2 or stronger.
HOW YOU SHOULD PREPARE FOR A TORNADO
Tornado threat for Tuesday, Jan. 24, 2023.
(FOX Weather)
---
"There's been a big change overnight. The Storm Prediction Center actually expanding the area," FOX Weather meteorologist Britta Merwin said. 
"We have two specific timeframes that we're looking at here – afternoon and evening and then the overnight threat," she added. "But it does stretch the entire Gulf Coast from Port Lavaca (Texas) all the way over to Pensacola (Florida)."
HOW TO WATCH FOX WEATHER
Severe weather threat for Tuesday, Jan. 24, 2023.
(FOX Weather)
---
Less than two weeks ago, a deadly severe weather outbreak pummeled nine states across the South, which included an EF-3 tornado in Alabama that killed seven people as it tracked more than 76 miles from Autauga County to Chambers County.
"It's been a rough several weeks, and unfortunately, Tuesday night into Wednesday morning will be a timeframe to watch very closely," Merwin said. "A lot of this threat will be during the overnight hours, and that's always a very large concern because you will be sleeping."
"So, Tuesday night into Wednesday morning is when you want to have that phone right next to your bed with your notifications turned on, so if you do get a Tornado Warning, you can act immediately," Merwin added.
NIGHTTIME TORNADOES FAR MORE LIKELY TO TURN DEADLY THAN DAYTIME ONES
Wednesday: Severe weather threat extends from Southeast to southern mid-Atlantic
Severe weather threat for Wednesday, Jan. 25, 2023.
(FOX Weather)
---
On Wednesday, strong to severe storms could impact portions of the Southeast and southern mid-Atlantic states, the FOX Forecast Center said.
The risk of severe thunderstorms stretches across parts of southeastern Alabama, northern Florida, southern and central Georgia, the central and eastern Carolinas and southeastern Virginia.
These storms will pose a threat of damaging wind gusts and a few tornadoes.
HERE'S WHERE TORNADOES ARE MOST LIKELY TO OCCUR IN JANUARY
As the storm system moves off the East Coast Wednesday night, the severe weather threat will diminish for the remainder of the week.