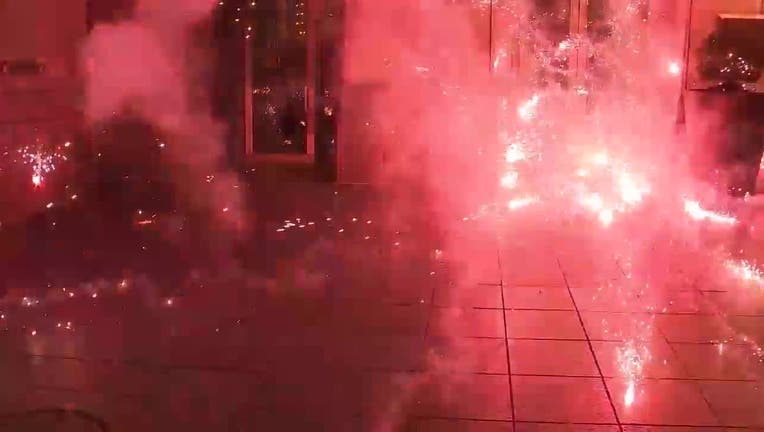 ATLANTA – Gov. Brian Kemp is issuing a state of emergency ahead of potential anti-police protests in Atlanta this weekend. The order calls for up to 1,000 Georgia National Guard troops to be called up to "subdue riot and unlawful assembly."
Last weekend's violence came days after law enforcement shot and killed an environmental activist, who the Georgia Bureau of Investigation said shot a state trooper.
Demonstrators took to Underground Atlanta Saturday to demand an investigation into the death of Manuel Esteban Paez Teran, a 26-year-old protester who was killed by Georgia State Troopers during a sweep at Intrenchment Creek Park on Jan 18. That area is the planned site for the Atlanta Public Safety Training Center, or what some critics are calling "Cop City."
HOW 'STOP COP CITY' MOVEMENT LED TO VIOLENT NIGHT IN DOWNTOWN
Investigators said Teran did not comply with commands from a joint task force, and that he fired at a trooper first.
At least three businesses were damaged when rioters threw bricks and rocks shattering windows. At least two police cars were targeted, one was set ablaze. Investigators said some of the individuals arrested were found with explosives.
5 MEMPHIS OFFICERS CHARGED WITH MURDER OF TYRE NICHOLS
The continued anti-police movement in Atlanta could also be further enflamed by the charging of five former Memphis police officers with second-degree murder and other crimes in the arrest and death of Tyre Nichols, a Black motorist who died three days after a traffic stop confrontation. Body camera video of the incident is expected to be released on Friday evening.
The Atlanta Police Department said it shares in the outrage over the circumstances of the death of Nichols.
"Police officers are expected to conduct themselves in a compassionate, competent, and constitutional manner and these officers failed Tyre, their communities, and their profession," the department wrote in a statement. "We ask that demonstrations be safe and peaceful."
The department said it is ready to support peaceful demonstrations over the weekend by ensuring they stay safe and non-violent.
WHAT WE KNOW ABOUT TYRE NICHOLS' DEATH AND THE MEMPHIS OFFICERS CHARGED WITH MURDER
The governor's orders states that "Georgians respect peaceful protests, but do not tolerate acts of violence against person or property."
As of Thursday evening, no guardsmen have been called up, but were just put on alert.
The state of emergency expires at the end of the day on Feb. 9.
This story is breaking. Check back for details. If you have additional information, pictures, or video email newstipsatlanta@fox.com.